IMPORT, CREATE & EDIT
Nero Video 2018: The video editing program provides you with maximum creativity, extremely easy handling, and the best results for your movie projects. Captivate your audience using express or advanced video editing, with over 800 effects and new movie templates including drop zone effects. Black bars on widescreen TVs are now also a thing of the past. With the new 1-click bar-remover, you can upgrade your photo and video material and prepare it for the optimal movie experience on a big TV screen. And: Platinum is vertical video-ready! Upright videos and photos from your smartphone can now easily be imported and edited as a vertical video, and thanks to the new vertical video template, can be put perfectly into the limelight.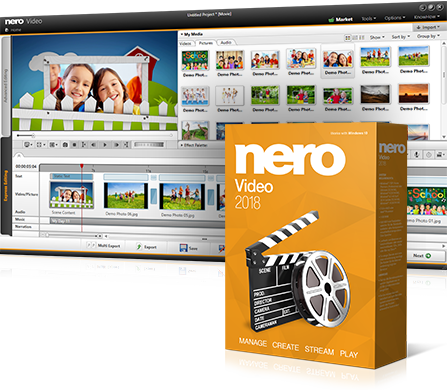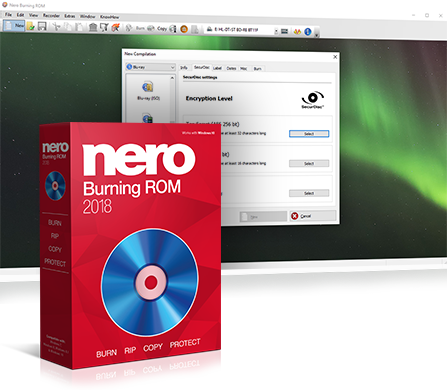 BURN, COPY & ARCHIVE
Nero Burning ROM 2018: Start enjoying Nero intuitively with Nero QuickStart and get to grips with the most important tasks in next to no time. What's more, the speed doesn't stop there: Be it audio CDs, DVDs, or Blu-ray Discs™, you can copy and burn photos, videos, music, and data for the long term using the proven Nero burning technology. And if you want maximum security, SecurDisc 4.0 provides password protection and 256-bit encryption so that nobody can access what you want to keep private.
ORGANIZE, PLAY & STREAM
Nero MediaHome 2018: Everything under control! Have you lost perspective of your photo archives on your PC? Multiple copies of photo duplicates? The brand-new Nero DuplicateManager Photo (only in NMH in Platinum) provides quick assistance. It finds duplicated photo folders and photo duplicates quickly and reliably, sorts out your photo archive, retrieves valuable storage space, and tidies up your media center Nero MediaHome. Here, you can now also archive and play your movies and TV series with ease. Movie titles and movie posters are automatically created in the process. Be it video-DVDs, music CDs, music files, photos, slide shows, videos, movies, or TV series, you can play anything – even your 360-degree pictures, conveniently using the new Nero 360 VR Player!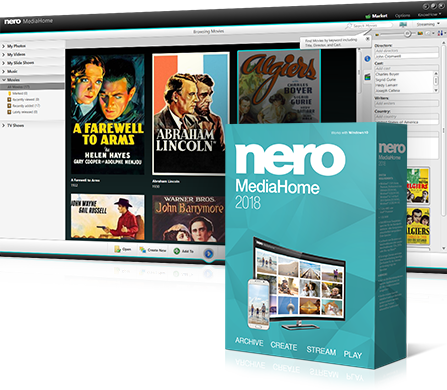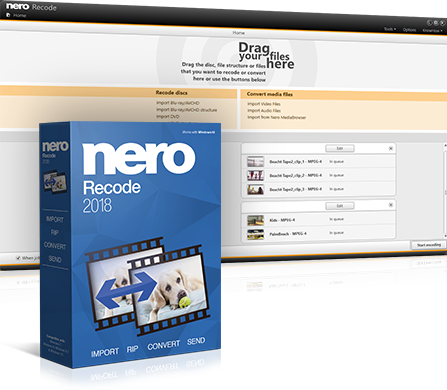 RIP & CONVERT
Nero Recode 2018: Bring together what belongs together: Import all formats, including even high quality HEVC (H.265), and convert them to almost any format you need. Rip video DVDs*, AVCHD*, and Blu-ray Discs™*, and simply reuse the files for new projects. With 1-click conversion, you can send audio CDs directly to your connected mobile device. In the process, Nero automatically ensures the easiest conversion mode with the best sound.
*Only non-copy protected sources
SECURE, ENCRYPT & COMPRESS
Nero BackItUp 2018: Backup your valuable media data with the integrated Nero BackItUp and all your data is in good hands! You can now use Nero BackItUp to protect all your memories on your PC or laptop: Backup your data automatically in 3 target destinations, e.g. on a USB hard drive. Only click on one button to start your backup. Secure your data according to your desired backup interval. Continuous data backup is also possible so that Nero BackItUp continuously protects new data in the event of updates.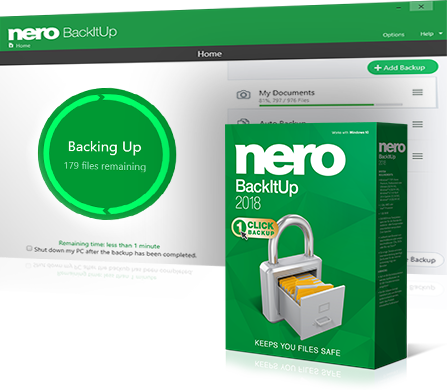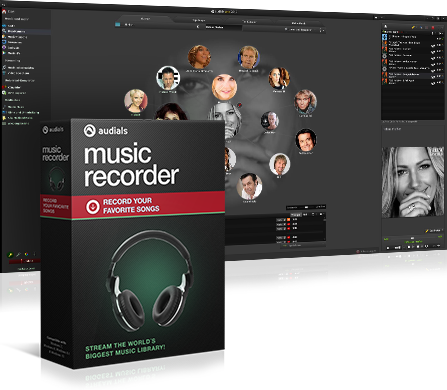 STREAM & DOWNLOAD
Music Recorder: The Nero Music Recorder included in Nero Platinum 2018 is your ticket to the world of music: Listen to the hits of your favorite bands and discover new songs by accessing over 100,000 online radio stations and thousands of concerts, music videos, and fan content. Music Recorder records music as a non-DRM-protected MP3 file. These can then be copied to your mobile device.