Nero Mobile Apps
Never a day goes by when you don't get out your smartphone or tablet? We accommodate your habits and, with Nero Mobile Apps, give you new ways to access your multimedia applications in conjunction with your Nero products – but also completely independently of them. You can therefore use Nero Mobile Apps as useful additions and enhancements to Nero Platinum, Nero Classic, or the Nero stand-alone solutions and have movies, pictures, and music in your hand – no matter where you are.
Nero Streaming Player App
At home you're the DJ!
Would you rather play your music from your smartphone loud and clear through speakers? Fed up of having to watch movies on your tablet screen? Then get streaming! With the Nero Streaming Player App, you can easily and wirelessly play the pictures, movies, and music stored on your mobile devices on smart TVs, your PlayStation®, or other devices in your home network. And whether it's your favorite song, a slide show of photos from your last vacation, or a blockbuster movie from your media archive, you can also use your mobile device screen as a remote control to play your PC-based media wirelessly on the largest screen in your living room.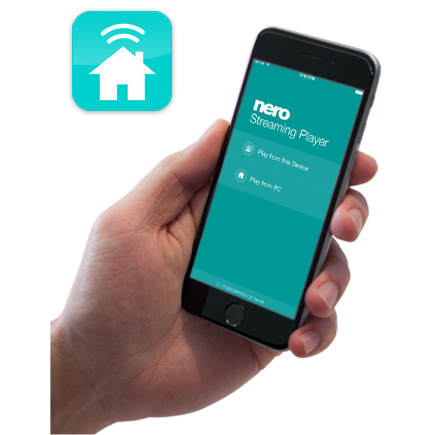 Nero MediaHome WiFi Sync App
Swim in sync with your media!
Have a lot of photos and videos on your smartphone, but less and less storage space for them? Do you have photos and videos languishing on your PC that you'd love to have on your mobile device? With the Nero MediaHome WiFi Sync App, you can wirelessly transfer media from your mobile device to your PC and from your PC to your mobile device. With automatic format conversion, too, if you need it. Simply ensure that your mobile device and your PC are registered on the same network and let the app do its work. That way, you'll always be well entertained when traveling, commuting to the office, or simply sitting in your living room.
Nero TuneItUp Cleaner & Booster App
The cleaning fairy with a guarantee of
Did you know that every time you browse the web, every text you send, or every call you make leaves a trace on your Android phone? Not only are these traces easy to read, but they also rob your mobile device of the power to work quickly. So conserve your battery and clean out the junk. The Nero TuneItUp Cleaner & Booster App scans your phone and gives it the tune-up it needs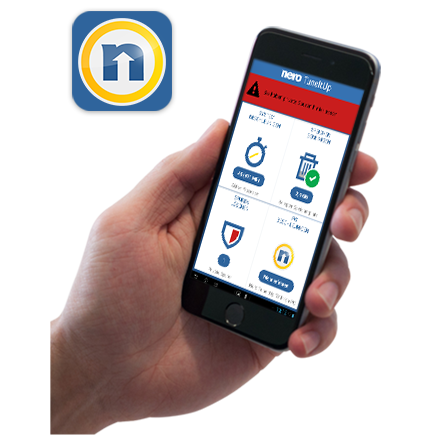 Nero BackItUp
Connect your Android phone with your computer via AirLink – our newest technology, which guarantees easy discovery and connectivity and makes your back up process even more comfortable! No extra soft- or hardware is needed to work with this handy and brand-new tool, all it requires is Wi-Fi connection. You are no longer in need to use cloud services, as you can save you data in a secure environment on your own PC.
Nero AirBurn App
Unlimited burning!
Memories that you only had on your smartphone or tablet can now be burned to CD, DVD, or Blu-ray Disc™ in no time at all using the Nero AirBurn App. Simply select your files, send them to your PC with the app, and Nero Burning ROM will launch your burning project.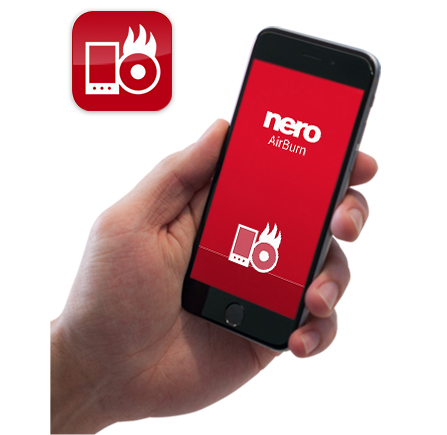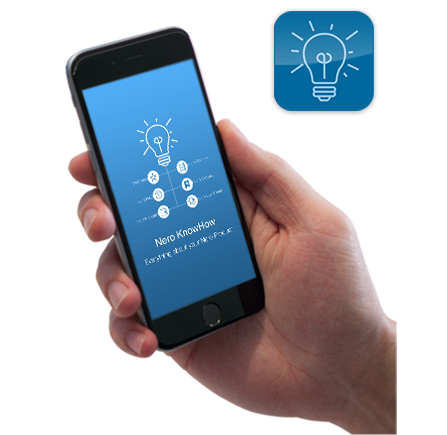 Nero KnowHow App
Your digital assistant for completely successful multimedia projects!
Forget hidden features and unused options: The Nero KnowHow App contains all the tips, tricks, and expert advice that will have the biggest impact on your projects. With its replies to your Frequently Asked Questions (FAQ), manuals, video tutorials, and access to the user forum and glossary, all your questions about Nero products and your specific needs are answered.