Mastercam is the most widely used CAM software worldwide* and remains the program of choice among CNC programmers. Mastercam Mill is the next generation of our popular program, delivering the most comprehensive milling package with powerful new toolpaths and techniques.
Mastercam gives your shop the best possible foundation for fast and efficient milling. From general purpose methods such as optimized pocketing to highly specialized toolpaths like 5-axis turbine cutting, Mastercam ensures that you're ready for any job. Mastercam delivers:
Full 3D CAD modeling.
Easy pocketing, contouring and drilling.
Feature-based 2D programming.
Robust 3D solids and surface machining.
Powerful multi-axis cutting.
Specialized options for focused projects.
Mastercam Mill can grow with your business. Start with what you need, and upgrade to new machining techniques as your needs grow.
Having the best software is only one ingredient for success. A global community of Mastercam users, experts, educators and enthusiasts helps you get the most from your investment. Our local Resellers bring years of practical experience, helping to ensure that you're getting what you need today, while preparing for tomorrow.
Flexible and expandable.
Mastercam's comprehensive design means there's always more than one way to get the job done. Once you program a part, no matter how complex, you can modify any element of the job and immediately get updated toolpaths without starting over.
You can also build a library of your favorite machining strategies. Choose any of your saved operations, apply them to a part, and Mastercam helps adapt them to the new model. Because Mastercam Mill is fully integrated CAD/CAM, it's fast, easy, and productive. The way programming should be.
---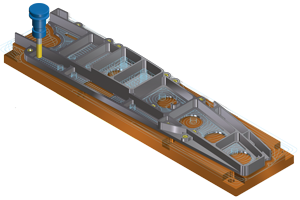 2D MACHINING
Serious 2D capability.
Your daily needs for 2D machining can range from simpleto very complex. Mastercam Mill delivers the tools you need.
Feature Based Machining (FBM) automatically programs prismatic solids drill holes, contours, and pockets. Save or change the strategies at any time.
Complete and easy control of approach, start points, and entry methods.
Contour and pocket remachining use smaller tools to automatically clean out material left from previous operations.
Precision chip control for a wide set of tools, plus specialized tool support including ISCAR®'s High Efficiency Machining (HEM) tool set and more.
Dynamic Motion powers much of our 2D suite, constantly adapting to create smoother, safer motion and making better use of the entire tool. Check out the videos at Dynamic page to hear it directly from our customers.
Mastercam's 2D toolpaths deliver easy and optimized pocketing, contouring, drilling, facing, and much more.
---

3D MACHINING
Our finish is more finished.
Mastercam provides unsurpassed control on surface cuts, delivering superior finishes and optimized cycle times. our refined 3D toolpaths give you a smooth, precision finish to please even your toughest customers.
Cut multiple surfaces, solid models, and STL data.
Dramatically efficient roughing powered by Mastercam's Dynamic Motion technology.
Constant scallop machining maintains a consistent finish on sloped and flat surfaces alike.
Constant-Z rest milling (remachining) identifies and machines areas to be cut with a smaller tool.
Hybrid finishing creates a single toolpath that changes cut methods as the slope of the model changes.
Pencil tracing walks a tool along the intersection of surfaces to clean out hard-to-reach areas.
---

MULTIAXIS MACHINING
Complexity simplified.
With Mastercam, you have complete control over the three crucial elements of multiaxis machining: cut pattern, tool axis control, and collision avoidance. From 4-axis rotary and roll-die cutting to multiblade impellers with tight internal cuts, Mastercam helps simplify even the most complex jobs.
Other highlights include:
Multisurface 5-axis roughing and finishing (including depth cuts), plunge roughing, and flowline machining.
Swarf machining over multisurface floors.
Advanced gouge checking, a "safe zone" around the part, and safe linking between operations.
Fast, simple 5-axis trimming and stock-aware drilling.
Ability to create full 5-axis motion from a 3-axis toolpath.
For specialty machining, ask about these available Add-Ons:
• Mastercam Blade Expert for multi-bladed parts and hubs.
• Mastercam Port Expert for head ports and tube-type applications.