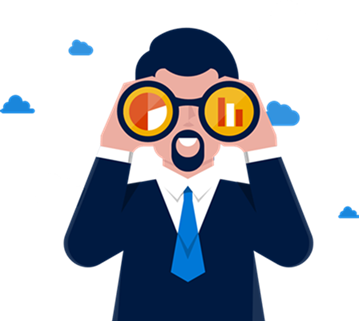 Dear Valuable Partners,
Microsoft would like to announce the new scheme of "FY18 NOVEMBER Deal Registration Program" from 6th to 28th November 2017 – for SMB Commercial Customers (according to Microsoft definition). Access the Microsoft Deal Reg portal today at https://vn.msdealreg.com to register your deals and avail of exclusive customer discounts.

Why join?

As part of the Deal Registration program, you will get additional discounts on-top of existing open discounts which will help you increase your sales by giving better prices to your customers.
The available discounts for this month are as follows: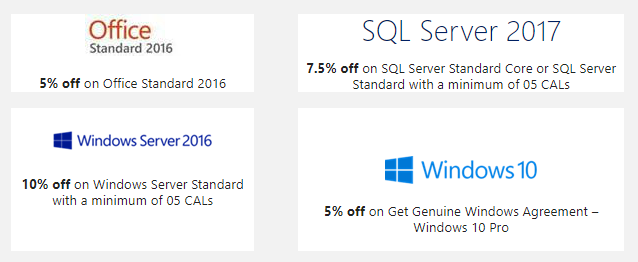 *** Microsoft Deal Reg portal will be opened at 9:00 AM on 6th November 2017.
How to Join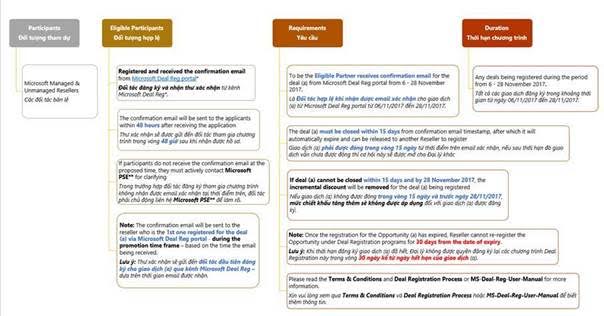 Notices:
1. Microsoft holds no restriction regarding Participants' decision on distributor.  
2. Microsoft ensures the confidentiality of Deal Registration's Participants.
3. The opt with Vietnamese Language without accented will be declined.
4. The deal (a) must be closed within 15 days from confirmation email timestamp, after which it will automatically expire and can be released to another Reseller to register.
5. The opt should be updated full required information. In case opts are not clear/ full information, they will be declined.

Chúc quý khách hàng thành công cùng Vdosoft và Microsoft.
Xin trân thành cảm ơn!